You are here :
Study
University of Groningen
University Information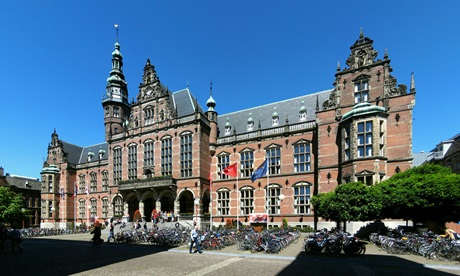 The University of Groningen is a thriving international research university, where teaching and research are integrally connected. At the same time the University of Groningen is firmly rooted in the north of the Netherlands.
As co-signatory to the Magna Charta Universitatum (1988), the University of Groningen supports academic autonomy and independence and adheres to the codes of practice of the Royal Netherlands Academy of Arts and Sciences (KNAW) and the Netherlands Organisation for Scientific Research (NWO).
Moreover the university offers a multifaceted environment in which students and staff from throughout the world meet to exchange ideas and views and are encouraged to look beyond the confines of their own subject, discipline or field. The University of Groningen thus educates its students to become emancipated citizens of the modern world, academically-minded and independent, actively engaged in society and prepared to shoulder responsibility anywhere in the world.
The University offers a wide variety of modules and degree programmes in the Bachelor's phase, with the University's research interwoven with the teaching and focused on real issues concerning society. The Master's degree programmes and Graduate School PhD Degree programmes lend depth to the education provided at Groningen. With regard to research, the University prefers specialization in primary research fields. Crucially important are the individual strengths of researchers, the existing portfolio of the University, innovation in science and a focus on the needs of society.
The University trains the future leaders of society and this great responsibility carries attendant obligations. At the very heart of the University is the provision of a high standard of inspirational and challenging education, focused on achieving excellence in both academic and professional practice. To achieve such standards, those engaged in teaching must excel, as must their students. Academic excellence and relevance to society are key issues at all levels of teaching and research.
Facilities:
The University of Groningen offers a wide range of facilities including University Museum and Theatre, Sport facilities, Shops, Language Centre, Wi-Fi and Library.
Entry Requirements:
Both the level of your previous studies and the grades that you have obtained will be considered to assess your academic standard. This evaluation is carried out by the admission officer and admission board of your chosen programme to determine if the required academic standards are met. Also, personal motivation is often a relevant criterion.
Link to university website: www.rug.nl
Check-out the testimonials of British students, Christian Garrard and Ritwik Swain, currently studying at University of Groningen.
Other undergraduate courses at University of Groningen