You are here :
Caitlin Bones
Caitlin Bones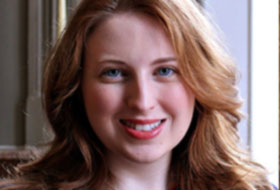 University: University of Groningen
Course: LLB in International and European Law
Which year you are in: 2nd Year
Home Town in UK: Durham
1. Why did you choose to study abroad?
I was interested in pursuing health law (though this was mainly offered at a Master's level) and I did not necessarily want to tie myself to British law as I wasn't sure I wanted to be a barrister or solicitor. I found this law course at the University of Groningen that really interested me and I hope it would not only expand my horizons but also help me stand out from the crowd on the job market.
2. How would you rate the assistance of the university before you arrived (the application process, finding accommodation, sorting out financial matters)?
I had a lot of contact with the Law Faculty, specifically the international office of the Law Faculty. They arranged a two-day programme for me to follow when I visited. So I was able to attend lectures and working groups plus met current students, which was extremely informative. They were also always available to answer questions by phone or email.
The application process is not difficult it just takes quite a bit of time, as you have to submit a lot of documents. Plus I had to take an entrance test; this was not difficult as it was more logical reasoning and personality questions but you did have to do it on a specific day.
You do have to pay your yearly tuition fees at the start of the year or in instalments throughout. You are not entitled to British student finance so have to fund it yourself however my whole three year degree is less than a single year at a UK university.
You need to find your own accommodation really as it is typical for Dutch students to live in the city in rooms and apartments. There is a university housing office providing accommodation for international students. Hence living arrangements are a bit different to the UK.
3. How would you rate the assistance of the university when you arrived (orientation etc)?
The University of Groningen has a welcome day and my faculty also had a welcome day. Both of these were sufficient to provide me with all the information needed, especially as I had previously received a comprehensive welcome pack before I left the UK.
The organisations, such as ESN (European Student Network) also have events and activities. However, there is not really a 'fresher's week' as you have in the UK.
4. Did you feel prepared when you arrived and/or what surprised you?
Yes I felt very prepared as both the Law Faculty and the University provided sufficient information.
5. How would you rate the learning environment (teaching style, studying with other international students, non-native English speaking lecturers)?
It is very good. We have both lectures and working groups (seminars) that are very similar to the UK in many ways. Though the number of students in the lectures is typically less, only around 70, which is productive. Despite the small cohorts there are so many different nationalities it is so easy to make friends form all over the world. I have learnt a lot about different cultures and countries, and also how to make my English globally understandable.
The majority of teachers have an extremely high level of English. Plus as a native English speaker I would say I have an advantage compared to other students, where English is their second language, as I can piece together what was meant if the teacher uses some weird word order.
6. Would you recommend studying abroad to a 17-18 year old Brit who might never have thought about it before?
Yes it truly opens your eyes to the world and you definitely grow-up. Moreover, you learn a lot about yourself on the journey.
7. Is there anything you wish someone had told you at the time you applied?
I was quite well informed having spoken to students who already studied in Groningen. I definitely recommend doing this – you can ask the university, your school, study abroad organisations and try Facebook for this.
I would personally stress these four points to anyone considering applying:
a) There is a short period between being accepted and actually starting as classes begin around the 1st September
b) Groningen (and some other Dutch universities) use Binding Study Advice (BSA) meaning you have to pass 45 of the 60 credits in your first year to be able to continue. This means you really have to work as soon as you start as my first exams were within seven weeks and they count towards my final degree result. There is still time for fun though!
c) We receive far fewer official holidays only around eight weeks in summer, two at Christmas, the weekend of Easter and a few public holidays.
d) It's difficult to find a part-time job unless you speak Dutch, though there are some limited opportunities for native English speakers such as editing. Therefore you really have to be self-reliant, especially as you receive no financial aid from the British Government.
8. Would you recommend your course, university, city to British students?
Yes Groningen is very much like Durham as it's very student-orientated. The only difference is its has no hills! There is plenty of nightlife and activities as students make up about a quarter of the population.
My course is excellent and a compulsory part is an exchange period abroad so on my 'abroad from abroad' I'm off to Washington DC, USA, in September. It is worth pointing out if you want to do national (British) law, i.e. be a solicitor, this is probably not the course for you as it is a long route. But it can be done - you just have to take a conversion course afterwards.
You don't need to learn Dutch, it is useful to get the basics but everyone speaks English so you can always get help if needed so don't let that put you off.
The best thing I can say is give it a go as I'm sure you won't regret it – I certainly have not!