You are here :
Lucy Carveth-Johnson
Lucy Carveth-Johnson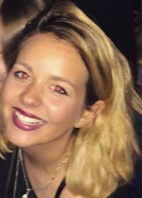 University: Hanze University of Applied Sciences
Course: Physiotherapy
Which year you are in: First Year
Home Town in the UK: Leeds
1. Why did you choose to study abroad?
Spending a lot of time out of the UK was my first reason to consider not going back to study there.
When I heard of how well regarded the physiotherapy degree is in the Netherlands, I researched all the universities that offered physiotherapy, and the English-taught physiotherapy programme at the Hanze University of Applied Sciences, Groningen appealed to me immediately, not only was it much cheaper than English universities, you got much more for your money. The course appeared to be very practical-based and right up my street. Then, when I visited the Hanze university open day, my decision was finalised. I fell in love with the city of Groningen and the university itself. Students were everywhere, there was so much on offer for students from various sport courses (kite surfing to African dancing) to photography courses. It's like the city was made for us students.
2. How would you rate the assistance of the university before you arrived (the application process, finding accommodation, sorting out financial matters)?
Initially, I thought the application process was confusing but once I read the information Hanze sent me about applying through Studielink (the equivalent of UCAS) it appeared to be much easier than my experiences with UCAS (English university application process).
At the open day, I received information about accommodation, they sent emails with housing and financing information and I found it helpful that all that information is also accessible via the Hanze's website. There are several options for finding a house and the university informed me of all of them.
The university stayed in touch with me throughout the whole application process and were very prompt in answering any questions by email too.
3. How would you rate the assistance of the university when you arrived (orientation etc)?
Before arriving we were informed of an introduction camp for the weekend before we start lectures. It is organised by current members of Fysiek (physiotherapy students' union) and was a very fun and exciting weekend. It gave us the opportunity to get to know each other before we started lessons together. It was all extremely well organised. The first week we had our introduction week and they explained exactly what to expect of the upcoming years.
4. Did you feel prepared when you arrived and/or what surprised you?
Obviously, starting university will always be a daunting life-stage but I felt comfortable from the beginning, no nasty surprises! It was so much easier to settle in than I imagined. There are events organised by ESN (Erasmus student network) which is the perfect opportunity to meet international students in exactly the same position as you.
5. How would you rate the learning environment (teaching style, studying with other international students, non-native English speaking lecturers)?
I love the way they teach! On a recent internship the great quality of Dutch education was recognised, the physio was amazed with how much I had learned in such a small amount of time. It is a very practical-based teaching style and you have a lot of opportunity to repeat the stuff you have learned, which is really helpful. From what I hear from my contemporaries at English universities, there is a lot more tutor contact at Hanze UAS. The course is very well structured and from the beginning you have to apply all of your theoretical knowledge so you become a successful physio in the future, not just learning for exams. In my year, there are people from all over the world and studying with international students is a great opportunity to learn about different cultures and makes a much more stimulating environment. You learn about healthcare systems and societies in other countries and make world-wide contacts.
Having non-native English speaking lecturers has not been a problem at all, English is very widely spoken in the Netherlands and it seems they all speak it perfectly!
6. Would you recommend studying abroad to someone your age who might never have thought about it before?
I would 100% recommend studying abroad. Not only does it you make you more employable but you get to experience a new culture. Groningen is an amazing city, from festivals in the park to paint parties there is always something new going on and there is so much surrounding Groningen to explore.
7. Is there anything you wish someone had told you at the time you applied?
Don't even hesitate to apply, it is such a great opportunity and it's a lot easier than people make it out to be.
8. Would you recommend your course, university, city to British students?
I would definitely recommend my course, if physiotherapy is what you want to do, I can't imagine there is a better place to study it. My oldest sister studied physiotherapy in the UK and envies that her course didn't offer what Hanze does. Visit Groningen and you will see why people come here, the city speaks for itself. Groningen has the youngest average age in the Netherlands, and it is obvious, most people seem to be a students and anyone who isn't a student likes having us all here.