You are here :
Lewis Millican
Lewis Millican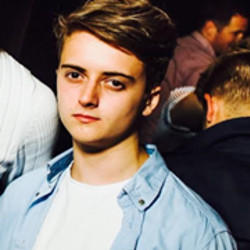 University: Hanze University of Applied Sciences, Groningen
Course: International Business and Management Studies
Which year are you in? Second year
Hometown: Morpeth, Northumberland
1. Why did you decide to study abroad?
I chose to move abroad because I did not want to follow the trend of going to a local university, with local people.
I wanted to study international business and in order to get the most out of the course you simply have to do it in a different country. Communicating on a daily basis to people from various countries and cultures is essential.
The fees are also very cheap in comparison to England of course!
2. How would you rate the assistance of the university before you arrived (the application process, finding accommodation, sorting out financial matters)?
The university are great in aiding you with all the information you need and beyond! The student office offers tours all year around, with all the knowledge you would ever need on not only about the university, but on practical matters about the city and living here.
3. How would you rate the assistance of the university when you arrived (orientation etc)?
Upon arrival the introduction week is intense as it gives you all the skills needed to get around the online site which is essential for the study. In addition to that, second year students are always on hand for any questions you have. I got a real sense of how the programme is run and what is expected of you as a student. 10/10!
4. Did you feel prepared when you arrived and/or what surprised you?
With regards to my preparations outside of my course such as housing, city navigation etc, yes I felt very well prepared due to the help given by the university and my parents.
But I was shocked by the intensity of the programme from the onset, you are required to keep up with all reading, exercises and attend all project meetings. I knew before i started the programme that i would have to do this, however I did not realise the level of intensity.
After the first period you get to grips with the structure and requirements of the course and start to make bigger steps to success.
5. How would you rate the learning environment (teaching style, studying with other international students, non-native English speaking lecturers)?
If you like an interactive and a practical learning environment which you don't just feel like a number in the course, this is definitely the one for you in my opinion.
Teaching is of a very high quality here and so is the teacher's level of English. Sure some teachers are noticeably better than others, however all are completely adequate for the course.
The campus offers great study areas, catering, book rental and sports facilities which only enhance your experience here.
6. Would you recommend studying abroad to a 17-18 year old Brit who might never have thought about it before?
If you want to experience something completely different, fresh, interactive, practical and enjoyable then come here for sure. The city is fantastic place to study as the population is next to a third of students which provides great nightlife.
Working with other cultures on projects on a daily basis is a skill which is crucial in the real world and one which is required by just about every employer in modern day working environment.
7. Is there anything you wish someone had told you at the time you applied?
I received a lot of information from the student team and university which was very beneficial to my knowledge of the course and the city itself.
However I was not told how different the way of testing and the intensity of the course would be compared to that of most universities in the UK. The student team would not have known about this since they are not British but I would give you a heads up!
8. Would you recommend your course, university, city to British students?
I could not recommend this course more to British students.
Differentiate yourselves from the norm of going to an overpopulated and overvalued British university education. Unless you go to one of the top ten universities in the UK you are going to be put in the same barrel of people with the exact same average degree, making employment next to impossible upon graduation.
Give yourself an opportunity to differentiate yourself in your CV, giving you the edge in the ever more competitive market of employment. Go abroad!