You are here :
Django Milner Vaas
Django Milner Vaas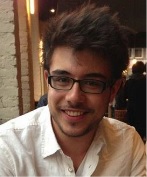 University: Avans University of Applied Sciences
Course: Environmental Science for Sustainable Energy and Technology
Which year you are in: 4th (final)
Home Town in UK: Manchester
1. Why did you choose to study abroad?
The UK is too expensive.
I wanted to study in a more project based, hands on way which better prepares you for the working environment. Avans offers that in the projects we do every term and also with two internships. We also had projects with real clients (a water board and an engineering consultancy firm) which gave us a very good insight to how working in a company is, not to mention the contacts we got from those projects.
2. How would you rate the assistance of the university before you arrived (the application process, finding accommodation, sorting out financial matters)?
I would say avans scores fairly high, they offered me accommodation through a student housing company for my first year and was helpful when I needed other help.
3. How would you rate the assistance of the university when you arrived (orientation etc)?
The international office and student union organises orientation and other activities to get to know the campus and also fellow students. They even offered to pick me up from the train station which was nice.
4. Did you feel prepared when you arrived and/or what surprised you?
Not really sure how to answer this one, I don't remember being particularly surprised by anything.
5. How would you rate the learning environment (teaching style, studying with other international students, non-native English speaking lecturers)?
The environment is very pleasant to be a part of. The relationships with the teachers and students is very informal and feels very comfortable. The teachers will always be there and make time for you if you have any problems.
The level of English is good and above average for non native countries. I really like the teaching style – we have theoretical classes and then projects we had to do in small groups - you apply the knowledge you learn from the lectures in the projects. You also learn how to behave when doing projects and you also learn how to work with other types of people.
6. Would you recommend studying abroad to someone your age who might never have thought about it before?
Absolutely. It really broadens your mind and makes you get to know other cultures and languages. It might seem scary at first but you become a much more developed and experienced person as a result.
7. Is there anything you wish someone had told you at the time you applied?
I cannot think of anything really.
8. Would you recommend your course, university, city to British students?
Yes, yes and yes. There are huge advantages to studying abroad and it's not like its far away - you can fly from Rotterdam to London in under an hour which makes it very easy to get to and also to pop back for the holidays. The vast majority of Dutch people speak a very high level of English too – so getting by is no problem at all!
9. Anything else you can think of would also be welcome.
The city is a great place to study – there are many students there – a huge chunk of which are international. The city has some great places to see and good nightlife. There are also really good festivals which add to the vibrant, lively personality of Breda.