You are here :
Samuel Gilbert
Samuel Gilbert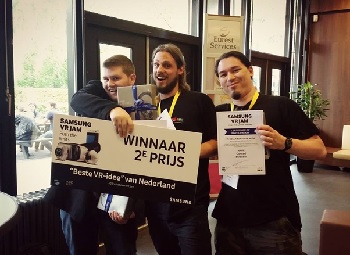 University: NHTV Breda University of Applied Sciences
Course: International Game Architecture and Design
Year: 4th year
Hometown: Uppingham
1. Why did you choose to study abroad?
For the international atmosphere, Rutland is somewhat of a closed community with very few groups, primarily English white.
The price was also a lot more appealing, as well as the quality of the courses.
2. How would you rate the assistance of the university before you arrived (the application process, finding accommodation, sorting out financial matters)?
Very little help was given, a link to a website to find a room, but with no instructions and also an unclear waiting time led to me having to sort out all accommodations on my own through a host family.
As for funding, I had to sort that out too. The UK does not provide students any form of funding to go abroad, so I once more relied on my host family and became employed under them in order to get DUO funding.
3. How would you rate the assistance of the university when you arrived (orientation etc)?
Orientation was fine. The camp-lost pre-week allowed me to meet others and make some connections early, as well as get to know the city of Breda.
4. Did you feel prepared when you arrived and/or what surprised you?
If it was not for my host family I would not have been able to come, as well as their help looking into things such as DUO, health insurance, doctors and such, as the majority of these are handled by the government for you in the UK.
5. How would you rate the learning environment (teaching style, studying with other international students, non-native English speaking lecturers)?
Great. The main plus to the education are the teachers and students. The teachers all come from the industry and have great connections, and the students being so diverse gives me the opportunity to learn more about the differences in cultures and make friends from around the world.
6. Would you recommend studying abroad to someone your age who might never have thought about it before?
Yes, if you have the financial capabilities to do so.
7. Is there anything you wish someone had told you at the time you applied?
All of the hidden fees, health insurance, water tax, how unclear and unhelpful DUO can be at times.
8. Would you recommend your course, university, city to British students?
Again yes, if you can afford it. It's quite a dramatic change in mindset to adjust for all the other bills you have to take on, especially as many of them your parents likely have never had to deal with either.