You are here :
Study
Study in Japan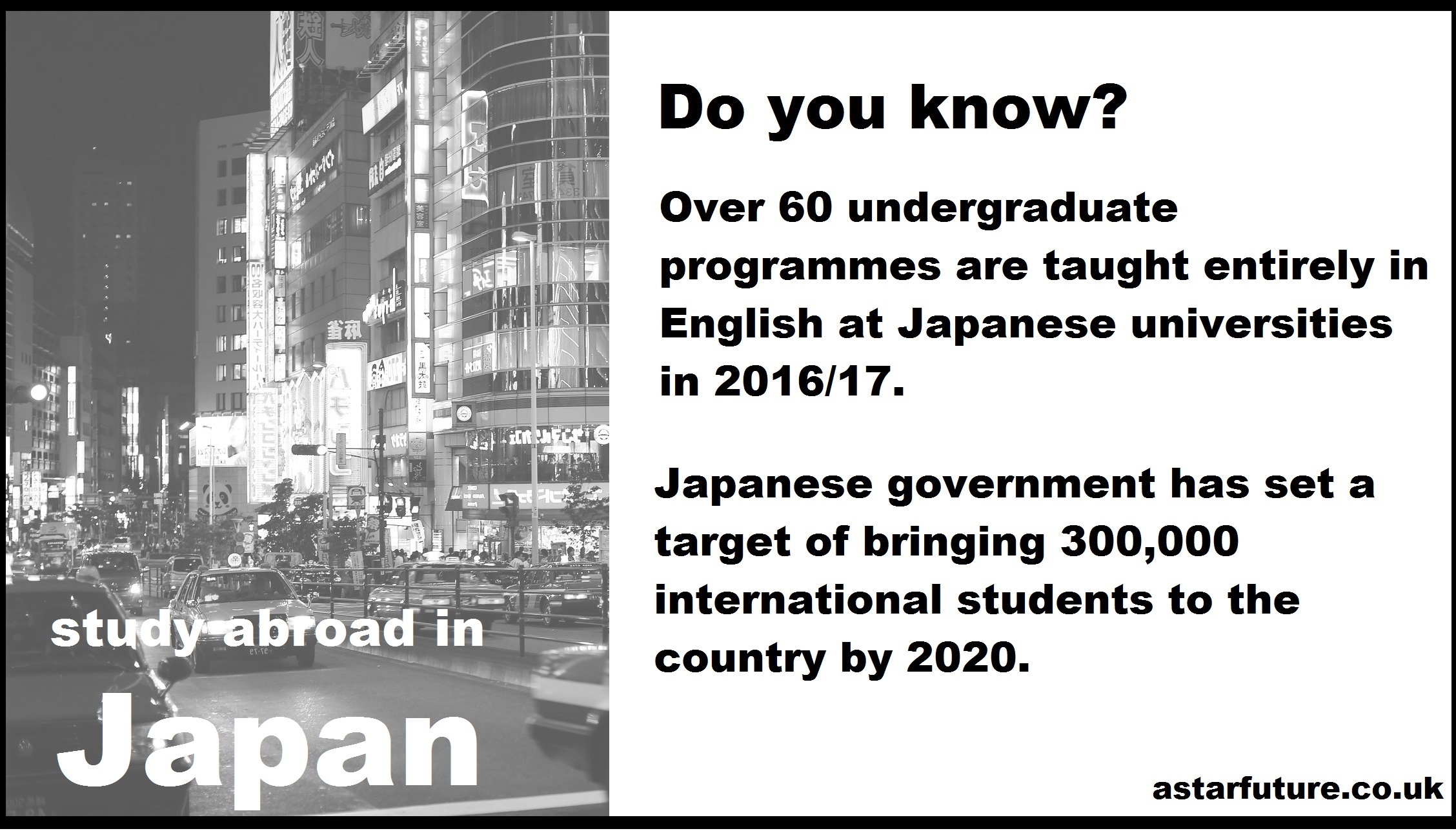 We write this guide about how British students can study abroad in Japan because 10% of participants in the 100 talks that we've done at UK schools this year told us they wanted to know more about Japanese universities. You might think that 10% is rather insignificant, but it is almost twice as much the figure for Singapore.
When considering to study in Japan, the majority of British students propably narrow their options to either doing an exchange semester as part of a UK degree, or learning Japanese in short language courses at Japanese institutions. But why not expand your horizons and do a full degree programme in Japan?
There are more than 60 English-taught undergraduate programmes on offer at Japanese universities for the next academic year of 2016/17. Whether you are interested in business, finance, engineering, international relations or media studies, Japanese universities always have something to offer. You can search all Bachelor's courses taught in English in Japan on this site.
In this guide we aim to provide essential information about international education opportunities and student life in Japan, but if you don't find the answer for any of your questions here, please do not hesitate to contact us.
Three reasons why you should go to university in Japan
Why study in Japan? "The cultural experience is amazing, almost completely opposite of British culture". Does this sound familiar to you? Very likely yes, because foreigners love Japan! While it's true that as an international student you will really jump in and experience Japanese culture for four years, travelling and studying abroad are not the same. You're there not just to have a good time, but to work hard toward a degree and perhaps employment.
So here three reasons why we think getting a Bachelor's degree in Japan is worth it.
1. Japanese universities have a global reputation for quality education.
Everyone knows Japanese universities have a long-standing reputation as top higher education institutions in Asia. What is often mentioned less is the impressive global rankings of Japanese universities. In a first, two Japanese universities made it to world's top 100 last year. In its 2015-2016 league table The Time Higher Education ranked University of Tokyo 43rd and Kyoto University 88th in the world.
But there are far more than two "big players" in Japanese higher education system because quality of education isn't just about rankings. In fact when searching for best Japanese universities for international students, you will probably see very different names than those in league tables, such as Waseda University, Keio University and Ritsumeikan Asia Pacific University (APU), to name only a few. Having a wide range of degree programmes taught in English and strong partnerships with universities worldwide is the key success factor for those universities. Their students greatly benefit from not only international curricula, but also research and exchange opportunities with top universities in their continents. For example, Keio University is currently running a dual bachelor's degree programme with Sciences Po, a leading institution in political science education in France.
2. Studying in Japan isn't that expensive.
More than 50% of English-taught undergraduate programmes are offered in Tokyo, which ranks near the top on almost every list of most expensive cities in the world. Tuition fees at Japan campus of Temple University were roughly £9,500 in 2015/16, about the same as tuition fees at British universities. You might think that going to university in Japan costs you a fortune, but it's not the reality.
You should keep in mind that lists of most expensive cities in the world are often geared toward working expats, not international students. Their criteria could include property and car prices. As a student you are more likely to rent a room and use public transport, so your living expenses are considerably lower. If you don't dine out in fancy restaurants like when you travel, you pay just around £3 (500 yen) for a meal in a cafe or food store - not expensive at all!
The annual tuition fees in Japan are from £3,000 to £6,000 at public universities, and could go up to £9,000 at private universities. This might be expensive compared to European universities, but it certainly does not reach US, Australian or even UK fees.
More importantly, Japanese universities offer very generous scholarships for students enrolling in English-taught degree programmes. For example, all students of the international undergraduate programmes at Kyushu University are entitled to 50% tuition fee discount. Scholarships to cover living expenses are also common in Japan.
3. You will be well prepared for employment.
Getting involved in extra-curriculum activities to increase employability is nothing new for British students. However, if you go to a so-called "English speaking" university in Japan, you'll be surprised that students even prioritise extra-curriculum activities above all else. Participation in societies dominates student life because employers value soft skills like teamwork, ressiliance and leadership that conventional Asian education doesn't cover.
Moreover, as a foreign student in Japan, you cannot but learn the local language. At the end Japan is not an English speaking country. You will spend time outside of the university, at supermarkets or the cinema where you might struggle without speaking a little bit of Japanese.
Learning Japanese is not easy but it's certainly a useful language to know. Japan has the world's third-largest economy, and Japanese employers are no doubt very keen on recruiting English-speaking graduates to diversify the workplace and go global. Speaking Japanese will significantly improve your chance of getting a job in Japan after graduation, or even find a job with a Japanese company in other continents.
Japanese higher education system - what international students need to know
The higher education system in Japan consists of four different types of institutions: universities, junior colleges, colleges of technologies and specialised training colleges. Currently English-taught Bachelor's programmes are only offered at universities, also regarded as the top of the higher education structure. Private universities provide around 70% of English-taught undergraduate courses.
At Japanese universities, students receive four-year training leading to a Bachelor's degree. The exceptions are medicine, dentistry and veterinary medicine programmes, which require at least 6 years to complete. Unfortunately these subjects are currently not taught in English in Japan.
Higher education in Japan is very much inspired by America. Many Japanese public and private universities both offer degree programmes in Liberal Arts, or incorporate Liberal Arts education in their curriculum. In the first two years of an Engineering degree you study a range of social science and humanities courses, such as political science, economics and history. From the third year onward you will specialise more on the subject of your choice.
Japanese universities are struggling to cope with failling birth rate. They have fewer students than their capacities and are therefore very keen to attract more international students. Japanese government has set a target of bringing 300,000 students from oversea to the country by 2020. As a result, you will not only feel very welcomed when studying in Japan, but also benefit from various advantageous policies. You will be able to start your course in September, rather than April when Japan's academic year usually begins. There will also be more staff hired specifically to support international students.
Entry requirements for Japanese universities
The most common method of university recruitment in Japan is through entrance exams. However, a few Japanese universities, especially private instiutions, have created more flexible admission processes for foreign students. Waseda University only require students to submit an online application form. Miyazaki University's admission procedure include online application and phone interview. Most Japanese universities that teach in English require students to have three A-levels.
When applying for a Japanese university, you will likely be asked to submit the following documents:
Certificate of your GCSE results
Certificate of your grades in the Lower Sixth or Upper Sixth, depends on which time during the year you make the application.
Certificate of predicted scores of your A-levels or AS-level, OR certificate of the results of your A-levels if you have already obtained them before applying to university in Japan.
Application deadlines vary from university to university, so it's best to check with your chosen institution.
Work while you study in Japan
As an international student you can work in Japan alongside your studies, but you must apply for Permission to Engage in Activity Other than that Permitted by the Status of Residence Previously Granted and receive approval before start working.
As soon as you arrive in Japan you can apply for this permission at the local immigration bureau, branch office or detached office. The following documents are required as part of the application:
Application form, which can be downloaded from the Immigration Beureau of Japan website
Your passport
Resident Card if you have already received it.
You won't be charged any fee for the application.
With the Permission to Engage in Activity Other than that Permitted by the Status Residence Previously Granted, you can work up to 28 hours per week during term time. During summer break and other long vacation periods, you are allowed to work up to 8 hours a day.
Best Japanese universities for international students
Universities in Japan