You are here :
Study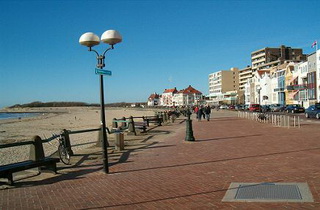 Vlissingen is a municipality and a city in the southwestern Netherlands on the former island of Walcheren. With its strategic location between the Scheldt river and the North Sea, Vlissingen has been an important harbor for centuries.
Vlissingen is a medium-sized, tourist and student town, where you always have that vacation feeling thanks to the beautiful beaches, sweeping seafront esplanade and relaxed pavement cafes.

The town has an agreeable, light atmosphere that invites you to combine your studies with an active and enjoyable life. The small scale of the city and its schools means that you will soon get to know your fellow students. Students come, not only from the Netherlands, but also for example from China, Spain, USA, Canada, Germany and France!

If you enjoy going out and are interested in culture, there are plenty of opportunities. There are various student associations that organize numerous activities and parties, like the Cultural Dining Club and the Cult Club.

Vlissingen has a bustling nightlife; apart from weekends Thursday evening is very popular for a night on the town. Many events have also been organized, including festivals and open-air concerts like Liberation Day (May 5) and the film festival 'Film by the Sea'.

If you enjoy sports, there are numerous possibilities. Water sports like (kite) surfing, rowing, sailing and swimming are particularly popular. There are sports clubs especially for students that organize a host of activities including participation in major soccer, sailing and volleyball tournaments. They also organize paragliding and mountaineering lessons and kite-surf workshops.

Moreover Vlissingen has accommodation that is less expensive and more readily available than in other student cities. Most students live in or near the city centre and housing is located within cycling distance of school, city and beach.
Additionally you have good railway connection to other Dutch cities like Amsterdam and Rotterdam from where you can easily travel to other destination of Europe.
For further information visit: http://www.vlissingen.nl/Home.htm
Universities in Vlissingen