You are here :
Study
HZ University of Applied Science
University Information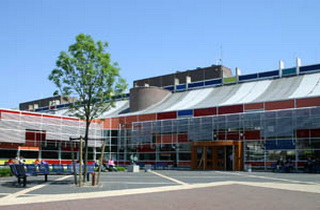 If you wish to combine theory with practice, HZ is the place for you!
HZ University of Applied Sciences is located on the beautiful Dutch coastline, in the seaside town Vlissingen, only a two-and-a-half-hour drive from Amsterdam and a five-hour drive from London.
HZ offers several programmes in English. As a medium-sized university the personal approach is our trademark. Classes are kept small and every student has his own study career coach.
As an international student, you will acquire your chosen competencies by means of custom-made education, which will prepare you with great flexibility for a career in a multicultural and multiform society. We make sure that our faculty and staff are always there to help you.

HZ University of Applied Sciences Bachelor's programmes aim to provide you with the skills and knowledge that you need for a successful career. This practical orientation is reflected in HZ's close relationship with companies and research centres.
HZ offers proven quality of education. HZ maintains close contact with the business field, companies and research centres by integrating companies' projects into its Bachelor programmes. This means that HZ student graduates have excellent job perspectives.
The latest available figures show that 88% of our graduates found employment right after graduation. Many of HZ's students gain their first employment position as a direct result of their internship year during their studies.
HZ University of Applied Sciences was named the best University of Applied Sciences by "HBO Keuzegids 2014", the new choice guide for Higher Education in the Netherlands. This guide describes the quality of all higher education in the Netherlands. Eighteen out of twenty-five of the rated Bachelor Degrees ended up in the national top three. HZ scores well over the national average!
HZ has an extensive network of partner universities and companies all over the world, which gives students opportunities to choose from a wide range of exchange programmes and work placements during their studies.
Prospective student are always very welcome to visit the HZ campus in Vlissingen.
HZ offers advice and support to their international students throughout their time at HZ. For example, information and support prior to their arrival, accommodation advice and introductory events, and finding work placements or exchange programmes.
The Integrated Water Management programme has been the best in the Netherlands for many years now. Other programmes such as Communication, Marketing, and Information and Communication Technology ranked among the top three these past few years.
Facilities:
HZ University has modern provisions at its disposal, including a library, lecture halls and laboratories, which all boast excellent equipment. The interactive information network InfoNet also contributes to an optimal study environment. The HZ is very progressive where ICT is concerned.
In addition to the above provisions, we also have a bookshop, a hairdressing salon and a student employment agency.
Entry Requirements:
The minimum requirement for admission to HZ programmes is the following:
To enrol in our 4-year study programme, you must be in the possession of:
- A diploma equivalent to a Dutch secondary education diploma.
- A good command of the English language.
Depending on the chosen study programme, you may need to fulfil other requirements:
For Water Management and Chemistry and Civil Engineering a good level of mathematics, biology, physics and chemistry is essential.
Link to university website:
Other undergraduate courses at HZ University of Applied Science