You are here :
Study
The Hague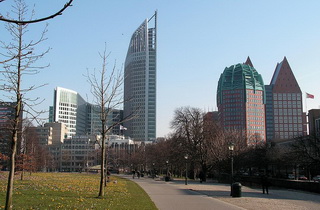 The Hague (Den Haag) is without a doubt a very versatile city. The city has many older monumental neighbourhoods, however features many modern architecture. In additional The Hague is the seat of Dutch government, but unusually it is not the capital city of the Netherlands, which is Amsterdam. It is located between Amsterdam and Rotterdam and is the third major city of the Randstad metropolitan area. Den Haag is home to all government ministries, embassies and the Dutch supreme court.
Internationally, Den Haag is known as the de facto judicial capital of the United Nations as it is the home of most of its legal functions including the International Court Justice and the International Criminal Court. The foundation of Den Haag as an "international city of peace and justice" was laid in 1899, when the world's first Peace Conference took place there. Den Haag is also home to Europol. Because of its role in the government of the Netherlands, the local economy is dominated by civil servants. Den Haag has never been one of the industrial centres of the Netherlands, despite its home to large numbers of internationally renowned businesses like Shell and Siemens.
The Hague is a great place to live and study, an excellent city for doing business and an international diplomatic crossroads. The Hague is very international and English is widely spoken.
Furthermore the city's nightlife is sizzling and well-known outside of the city. Most bars, cafés, and clubs are located within walking distance of one another in the city centre. You can find many and busy small cafés on the Plein. In addition many international food flavours are represented in The Hague, so you can enjoy almost any kind of food you fancy while you're in the city. Most restaurants are clustered in and around the city centre
The Hague has also a good Public transport, which consists of a tram network and a sizeable number of bus routes.
Moreover the Dutch city shares an airport with Rotterdam. It can be reached from Central Station by RandstadRail Line E, with an Airport Shuttle to and from Meijersplein Station. However, with several direct trains per hour from the railway stations Hollands Spoor and Centraal, Amsterdam Airport Schiphol is more frequently used by people travelling to and from The Hague by air. Consequently travelling from or to the UK is also very quick, easy and inexpensive.
Universities in The Hague