You are here :
Study
The Hague University of Applied Science
University Information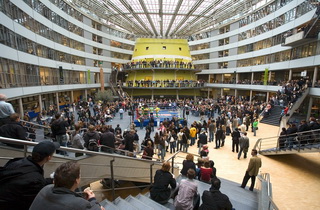 The Hague University of Applied Sciences (THU) is a university of applied sciences with a hands-on, vocational philosophy mixing both theory and practice. THU has more than 20,000 students, who come from over 135 different countries. That makes our university one of the most international universities of applied sciences in the Netherlands. Thirteen of our programmes are taught entirely in English and range from Engineering to Business.
We believe that it is important to tap into the professional world to give our students true to life experiences. Our international Bachelor's and Master's programmes are constantly updated to reflect developments and changes in business and industry. The programmes will also encourage you to be an independent thinker and to explore other people's perspectives, through cross-cultural debate and teamwork.
The Hague University offers eight full-time Bachelor's programmes and five Master's programmes.
Facilities:
The Hague University offers a wide range of facilities including library, computer facilities, sports centre, health centre and restaurants.
Entry Requirements:
Requirements will, of course, vary from programme to programme but generally speaking, you will need GCE-A levels (at least three at grade C or higher). Other diplomas may also be recognised but these will be subject to assessment.
Link to university website:
http://www.thehagueuniversity.com/
Check out the testimonial of a British student, Clare Higgins, currently studying at The Hague University of Applied Sciences.