You are here :
Study
University of Zagreb
University Information
Study Veterinary Medicine, Business and Engineering in English at the University of Zagreb, Croatia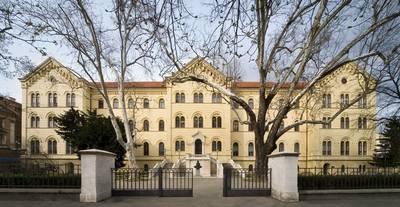 Founded in 1919, the Faculty of Veterinary Medicine at the University of Zagreb is one of the most established veterinary medicine schools in Europe. It is also one of the very few places in Europe where you could study veterinary medicine in English at undergraduate level. If there's no particular reason you want to stay in the UK, get your EAEVE-approved bachelor's degree in Veterinary Studies in Croatia and prepare yourself for greater opportunities to practice veterinary medicine in Europe. You can search for all English-taught undergraduate courses in veterinary medicine, business and engineering at the University of Zagreb on our website.
A top university in Croatia for international students
The University of Zagreb (UNIZG) was founded in 1669 and celebrated its 347th anniversary in 2016. It is the oldest continuously-operating university in Croatia, the biggest university in South-Eastern Europe and one of the oldest universities in Europe. Since 1991, the University of Zagreb had made major steps towards the European Higher Education Area (EHEA), the European Research Area (ERA) and implementation of European higher education and research standards.
With 29 Faculties, 3 Art Academies and the University Centre for Croatian Studies, the University of Zagreb is a leading higher education institution in Croatia and offers excellent education opportunities for more than 72,480 students each year. In the last few years, more international students from other European countries or as far as the US have come to the University of Zagreb to study full degree programmes in veterinary medicine, business and engineering. This trend significantly changes the perception of Croatia as just a destination for language, culture and humanity students.
Not only having a growing international student community, the University of Zagreb is also a hub of international research and exchange with over 100 bilateral agreements signed with partner universities in Europe, Australia, Asia and North and South America.
The University of Zagreb actively participates in EU programmes such as the Lifelong Learning Programme (2011/12). It is a coordinator and partner in a wide range of LLP projects, TEMPUS projects, Erasmus Mundus and Jean Monnet.
A modern university campus for science students
The University of Zagreb received the biggest investment in Croatian education in the last 150 years to build a new campus called "Borongaj". It currently hosts the Centre for Croatian Studies, Faculty of Education and Rehabilitation, Faculty of Traffic Engineering and Faculty of Economics and Business. Many new buildings are still under construction and will offer excellent facilities for science education and research at the university.
The Faculty of Veterinary Medicine is located at the Vjekoslav Heinzel Street veterinary campus, a peaceful oasis in the central eastern part of the city. It is very close to the city centre where you can easily find restaurants and shopping malls. The veterinary campus houses a Central library which offers students all primary sources in the area of veterinary medicine, meaning student don't need to budget too much for textbooks or manuals.
Learn Croatian during your studies at the University of Zagreb
Although all of your lectures and exams in vet medicine, engineering or business at the University of Zagreb will be in English, you might want to start learning Croatian to make the most of your stay in the country. If so, the Faculty of Humanities and Social Sciences offers Croatian language courses that suitable for beginners like you.
Other undergraduate courses at University of Zagreb