You are here :
Study
Rotterdam School of Management (EUR)
University Information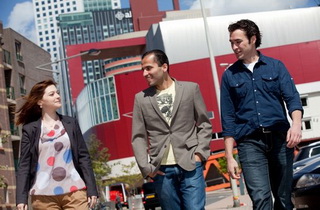 The Erasmus University Rotterdam (EUR) is an internationally oriented research university which is closely associated with the city of Rotterdam. Its research and educational activities can be classified in three areas of expertise: Economics and Management, Medicine and Health, and Law, Culture and Society.
Over the past 40 years, Rotterdam School of Management, Erasmus University (RSM) has firmly established its reputation as one of Europe's leading business schools through its programmes, services, academic activities and international accreditation by AACSB, EQUIS and AMBA and nationally by the NVAO.
International experience – of different cultures, people, languages and attitudes – is perhaps the most sought-after attribute for managers today. This experience is so highly valued because it cannot be taught; it can only be lived.
With 100 nationalities represented by our student body, working in an international environment is exactly what RSM offers. Teams of students from diverse cultures, working together, create a microcosm of multinational business – a great way to develop skills in the subtle art of global communication and cooperation.
RSM also actively encourages the international exchange of students to and from our many excellent international partner schools. International study trips and internships abroad are a feature of most of our programmes.
The Financial Times (FT) 2010 Meta Ranking places RSM's Master's and MBA's among the Top 10 European business schools. RSM has developed an extensive array of pre- and post-experience programmes, ranging from undergraduate (BSc) courses, to graduate (MSc) courses, MBA's and PhD as well as executive education. These programmes bring cutting edge, research driven knowledge and practical skills together allowing RSM to engage with business and industry in a targeted, dynamic and productive way.
Facilities:
RSM offers a wide range of facilities including one of the finest libraries in the Netherlands, University's computer rooms offer a large amount of workstations and in almost all areas Wi-Fi is available and sport facilities.
Tuition Fees:
Annual tuition fees are approx €1,835 for the academic year 2013/2014.
Entry Requirements:
GCE A levels: (General Certificate of Secondary Education GCSE (in 3 courses; grades A*- C) +
General Certificate of Education GCE (with 3 courses at advanced level) Two AS-levels accepted in place of one A-level providing at least one AS-level is studied at Year 13. Required grades B B B
required minimum grade B for mathematics (on A level) A motivation letter. This letter must include four items:

1. The international background you have, including nationality, place of birth or residence, previous education, international experience
2. Why you want to enrol in the English-language Bachelor International Business Administration
3. Why you choose RSM
4. Your career aspirations

The motivation letter must be written in English and should not be longer than two pages.
Link to university website:
Check out the testimonial of a British student, Haider Anwar, currently studying at Rotterdam School of Management, Erasmus University.
Other undergraduate courses at Rotterdam School of Management (EUR)