Home
/
Events
/
Avans University Orientation Days 2016 (Holland)
Avans University Orientation Days 2016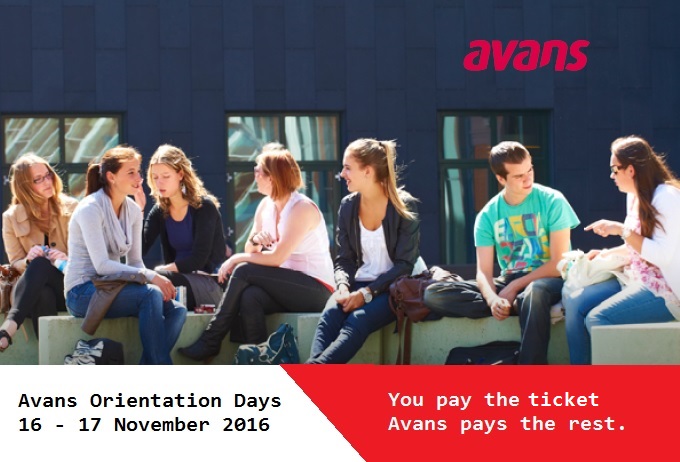 Registration is now open for Avans Orientation Days 2016. Come meet with students and lecturers at Avan University of Applied Sciences, one of the best universities of applied sciences in The Netherlands!
What to expect
This two-day event is designed for you to get the full "Avans experience". There will be various types of activities which give you an overview of what it is like to study in Holland and at a university of applied sciences. A few examples include:
Avans Orientation Days 2015
You pay the ticket, Avans pays the rest.
To ensure that this event is accessible for as many students as possible, Avans University of Applied Sciences will offer all participants of the Orientations Days 2016:
A one-night stay in a hotel in Breda within walking distance of Avans. You are expected to arrive on 16 November in the morning and depart on 17 November. Please note that you might need to share a room with a few other participants.
Lunch and dinner on 16 November, and breakfast and lunch on 17 November.
An exciting two-day programme on campus.
You only need to arrange:
Transportation to the pre-arranged accommodation in Breda.
Funding for any personal expenses during your stay.
How to sign up
Places at the event are limited, so please register asap using this online application form.