Home
/
In the News
/
Dutch Universities visited London
Dutch Universities visited prospective students, parents and careers advisors in London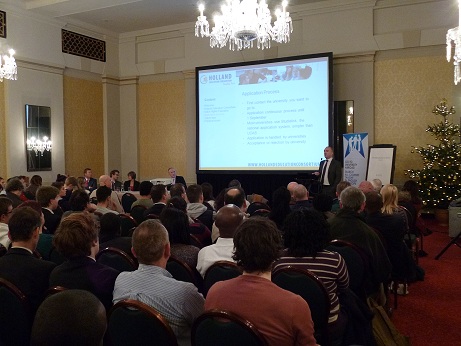 At the beginning of December, five Dutch Universities from the Holland Education Consortium came to London to talk to students, teachers and Careers Advisors from all over the UK about Higher Education options in the Netherlands.
The Study in Holland Advice Event was set up by
A Star Future
and
Study in Holland
to meet the demands of British students interested in studying in the Netherlands. With the change in Higher Education funding in the UK, more British students are considering studying abroad as a viable option to gain recognised qualifications as well as adding international experience to their CVs.
The event offered students the opportunity to meet one-to-one with universities and join the evening presentation which offered advice on the most important topics, such as explaining the Dutch Higher Education system, an explanation of the current financial situation for students, how and when to apply, as well as hearing from non-Dutch students who are studying in the Netherlands.
The post event survey revealed that 100% of respondents felt that the content of the presentation was relevant and over 90% were likely or strongly likely to recommend the Netherlands as a study destination. A number of respondents appreciated the clarity of the financial information given and walked away with a good understanding about the Dutch Higher Education system.
The Netherlands hosts some of the best universities in the world and is constantly adding English-taught Bachelor courses to their portfolio. There are currently over 200 in a range of subjects including: Engineering, Business, Psychology, the Sciences, Mathematics, Hospitality, Law, English, Fashion, Art, Physiotherapy, Media, IT and many more.
Students typically spend 4 years studying for their Bachelors degree at research universities or universities of applied sciences and often include work placements. Graduate employability is a key factor when weighing up HE options and at the event, one parent found out that "the Universities of Applied Sciences prepare students exceptionally well for the work environment".
The
Holland Education Consortium
is a collaboration between top complementary Dutch Education Institutes for joint representation abroad. The participating universities offers a complete overview of Bachelor and Master programmes ranging from business & management, technology & life sciences to humanities & social sciences, and include:
Hanze University of Applied Sciences Groningen

Hogeschool van Arnhem en Nijmegen
Leiden University
Stenden University of Applied Sciences
The Hague University of Applied Sciences
Tilburg University
University of Twente
Wageningen University

For further information about HE options in the Netherlands, please visit the relevant sections on the Study in Holland website:

STUDENT
PARENTS
ADVISORS
A Star Future will organise similar events in 2013 in London and in other cities in the United Kingdom. Details will be announced through our websites early in 2013.