You are here :
Study
Sydney
Sydney is situated on one of the world's most breath-taking natural harbours. More than 4 million people from over 180 countries call Sydney home.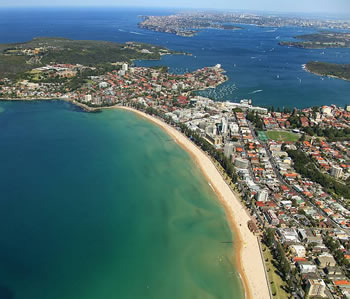 Sydney's mild climate gives residents and visitors access to a thriving outdoor life. Whether you enjoy shopping, alfresco dining, sightseeing or adventurous sports, you will find a myriad of options that cater to your interests in Sydney. The city is alive with trendy markets, parks, beaches, shopping and entertainment districts and sightseeing that is internationally celebrated.
A global fashion centre, Sydney's shopping choices range from upmarket boutiques to department stores and shopping malls. Colourful weekend markets are found in many trendy areas including the famous Rocks district, Paddington, Balmain, Woolloomooloo and Haymarket. Budget minded students have options too, as the weekend markets are great for fruit, vegetables, clothing and an assortment of other goods.
Sydney is renowned for its alfresco dining and offers a variety of options to suit every taste and price range. Cuisine from every ethnic origin imaginable is featured in a diverse array of restaurants and eating-houses.
Whatever your interest, you are bound to find it available in the relaxed and friendly community of Sydney.
The cost of living for international students is significantly lower in Australia than in the USA and the UK. The Australian Government now recommends that you allow AUD$18,000 a year while studying here. This figure includes accommodation, food, transport, clothing, fuel, power, telephone and entertainment.
Universities in Sydney
City: Sydney
City: Sydney
City: Sydney