You are here :
Victoria Mitchell
Victoria Mitchell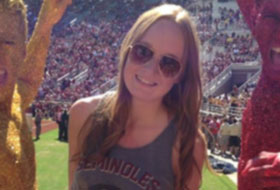 University: Florida State University
Course: International Gateway Programme - Retail Management
Which year you are in: Sophomore, class of 2017
Home Town in UK: Ashbourne, Derbyshire
1. Why did you choose to study abroad?
I chose to study abroad because I wanted a broader education. Florida State University (FSU) not only allowed me to study liberal arts courses, which gave me a broader area of study, but choosing FSU allowed me to experience a different culture - not only the culture of the USA but also of living in the centre of London.
Living in London is something I have always wanted to do and I will never get the opportunity to live so centrally in the capital city ever again! I also wanted to have an exciting university experience and something very different than if I was to go to a British university and FSU has allowed me to have that!
FSU has such a large campus with so many different organisations and groups it has allowed me to do what I enjoy outside of classes. With the UK fees rising a few years ago it made going to FSU more comparable than what I would pay if I were to stay in the UK. Also the cost of living is drastically cheaper than what I would have paid if I had stayed in the UK. I know my rent is about £40 cheaper a week than my friends are paying and the food is great value, I eat out most days and still pay less than I would be if I was living at home.
2. How would you rate the assistance of the university before you arrived (the application process, finding accommodation, sorting out financial matters)?
The FSU London office were very helpful in helping with my visa, SAT and preparing all the information I needed before my arrival. This made me much more comfortable about arriving at the Florida campus in Tallahassee because I knew that was all dealt with. It was nice to know all the staff on the London campus and be able to go to their office for any concerns that I had.
3. Did you feel prepared when you arrived and/or what surprised you?
I felt very prepared because I spent so much time making sure I had everything I needed, i.e. everything for my visa, health insurance, bank account, and accommodation.
I was initially looking at applying to American universities myself but the exams and application process scared me and I was concerned that I would have to do this at the same time as studying for A Levels. FSU's International Gateway programme helped me with all this in my first year, which took off a lot of the pressure and made this a very appealing option!
What surprised me is how much my parents love Tallahassee and FSU. They visited in mid-October and spent a few days in the city. They love the campus and the city as a whole and are planning a trip back next autumn for Parents Weekend and to go to the game!
4. How would you rate the learning environment (teaching style, studying with other international students, non-native English speaking lecturers)?
I have yet to meet any other international students and non-native English speaking lecturers. However the learning environment is good as I feel I can talk to my lecturers about any concerns I may have and get the support I need for the class.
5. Would you recommend studying abroad to a 17-18 year old Brit who might never have thought about it before?
YES! I think that FSU's Gateway programme is an amazing opportunity as you get the opportunity to live in the centre of London and also a large college town in Florida.
I think that if you have the financial means and experience of travelling and staying away from home before it is something you should definitely consider.
I feel as if I have much more of an exciting and interesting experience than many of my other friends at British universities. I meet up with them during holiday breaks and hear all the stories of nights out and how 'amazing' they were. However I have AWESOME stories to tell from London such as going to museums for classes, going on a weekend trip to Belgium, or how I go to the gym on Oxford Street and therefore get to walk past all the shops most days!
I am looking forward to going back at Christmas and telling my friends and family about my time so far in the USA, the FSU game day experience, how I went to Orlando for Thanksgiving, and even just how the weather is still beautiful and warm in November… and yes I go to the pool frequently!
It has been so nice studying in London and then coming out to the US as I have a lot of people that I already know from my time in London so I haven't felt homesick. I have joined a business organisation that one of my friends from summer was in and I live with people I lived with in London.
6. Is there anything you wish someone had told you at the time you applied?
That FSU is really like the universities that you see in movies.
Everything is so much cheaper than the UK!
Don't think about the distance away from home. My dad has always said if I need to come home there is money set-aside for that and it's nice to know that if I'm ever struggling the option is there for me.
This will be the best decision of your life!
7. Would you recommend your course, university, city to British students?
Yes I would! The Gateway programme and Florida State University has been a great opportunity for me and has really helped me to develop as a person. I have not only had a fun time here so far, but I am doing well in my classes too. I would be happy to be a contact for any incoming students if they have any questions or need any advice from someone who has been through this before!