You are here :
Study
Windesheim Honours College
University Information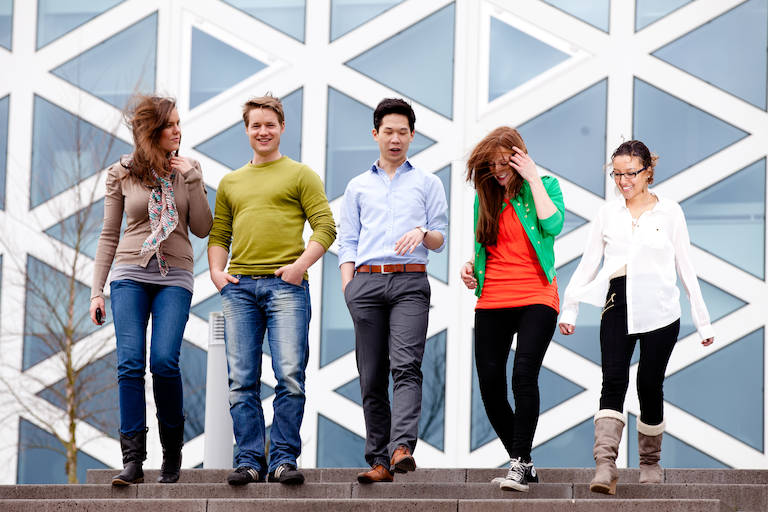 Launched in 2009, Windesheim Honours College offers a four year programme in global project and change management. During the first two years you will develop the core skills and learn the basics of project management. The last two years are focused on four project management fields: Health, Social Entrepreneurship, Urban economics and Civil Society. In these fields you complete electives as well as internships allowing you to sharpen your project management skills while "specialising" in a broad way. Upon successful completion of the programme you will receive an internationally recognised bachelor degree in Business Administration (BBA).
Windesheim Honours College is the first residential college at a University of Applied Sciences in the Netherlands. During the first year of the programme students are required to live together in the student residence. Windesheim Honours College challenges and motivates students to work hard and make the most of your study. Teaching at the College is based on experiential learning; you learn by doing, for instance during real life projects with real clients. Students will experience this from the first year onwards.
In the most recent Dutch National Student Survey (2014) our programme received an exceptionally high score. WHC has also been voted as Number 1 in its category of Bachelor programmes for the third year in a row. With a Windesheim Honours College Bachelor degree students are prepared for an international career as a (junior) project manager or consultant, ready to change the world in a structural and realistic way.
The college is quite small scale, with classes not exceeding 25 students. We aim to attract different nationalities of both Staff and students.
Facilities:
Windesheim Honours College is located on the Campus of Windesheim University of Applied Sciences. There is a specially reserved area in the D building, with a common room where students can study, have lunch together and meet in groups after class. Students also have access to the facilities at the main campus of the University, like the Multimedia center, a library and sports facilities. Students can join the gym, to do various aerobics classes and group sports; like soccer or badminton, or use the Olympic size swimming pool. Sandwiches and affordable dinners are available in the two canteens on the campus.
Entry Requirements:
In order to qualify for admission you need to have a diploma that is equivalent to the Dutch Havo diploma with mathematics and English as a subject. If a diploma is obtained outside of the Netherlands we will determine your admissibility on the basis of a formal diploma evaluation. All students with diploma outside of the Netherlands (Germany and those who have completed their high school education in English not included) need to complete an English proficiency test.
For Uk students the following admissions criteria apply:
International GCSE in four subjects including mathematics or GCSE in six subjects including mathematics. Student with an IB degree are also admissable, with a minimum score of 24.
Application procedure:
If you are interested in studying at Windesheim Honours College, your first step to take is to complete a registration in Studielink (www.studielink.nl). As soon as your registration in Studielink is complete, we will contact you and send you an interview preparation package. You are asked to complete the interview preparation form, write a letter of motivation and provide a professional and academic recommendation. You will need to send us these forms together with a copy of your diploma and/ or most recent transcripts. If - on the basis of the evaluation of your documents- you are admissible to the programme you are invited for an interview. The interview is conducted at the College in Zwolle or through Skype.
More information on diploma evaluation, the admissibility of a diploma and the application procedure is available on http://www.windesheimhonourscollege.nl/admissions-and-finance/.
If you have any questions for the admissions office, email admissionswhc@windesheim.nl
Link to university website:
www.windesheimhonourscollege.nl
Other undergraduate courses at Windesheim Honours College
Subject: International Relations