You are here :
Study
University of Canberra
University Information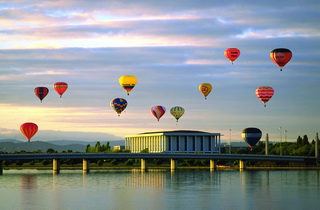 At the University of Canberra, Australia's Capital University, our focus is on preparing you for a successful and rewarding career.
We call it professional preparation for professional careers. And it works. Our graduates are consistently ranked among the most employable in Australia.
The University of Canberra will offer you the following during your study time:
state of the art knowledge and skills in your chosen discipline
professional preparation for a competitive edge in your chosen career
the flexibility to change or add to your mix of courses
the opportunity to take two degrees in four years
experience of hands-on work-integrated learning
lecturers informed by research and regular consultation with their professions
career-enhancing qualifications that are recognised and respected world-wide
the opportunity to participate in a research culture that is making substantial contributions to sustaining our quality of life. Australian students
the transformational experience that only an inclusive, collegial relationship between students and academics can provide
an enjoyable and relaxing social life in a friendly, multicultural environment
Facilities:
Teaching and learning facilities include:
Biomedical, Environmental and Forensic Science laboratories
the Faculty of Law's stylish e-Court, which enables mooting competitions via the internet
a Sports-Studies performance-evaluation laboratory
computer labs for Design, Software Engineering and general use
virtual Nursing and Physiotherapy wards, and Pharmacy and Dietetics laboratories
studios for Architecture, Interior and Landscape Architecture, Industrial Design and Cultural Heritage Conservation
multi-media production studios and edit suites
child care / preschool centres including Wiradjuri, where some Early Childhood Education students work as interns
the Library providing essential reference materials and online access to information databases.
On-campus social life revolves around our coffee shops, restaurants, food outlets, bar, lounges and lawns, student group-study annexes and the University residences (the Ressies). Regular social events are organized by UCU, and shops, banks and a hairdressing salon are conveniently located on campus.There are professional and social clubs and societies, a number of sports teams, plus a well-equipped sports and fitness centre with cardio and weights classes, squash, basketball, volleyball and tennis courts, plus ovals for soccer and rugby.
Tuition Fees:
Annual tuition fees vary between $15,920 and $24,380 depending on the course
Scholarships:
For more information, please visit: http://www.canberra.edu.au/int-future-students/study/financial-support
Entry Requirements:
n/a
Link to university website:
Other undergraduate courses at University of Canberra