You are here :
Study
NHTV Breda University of Applied Sciences
University Information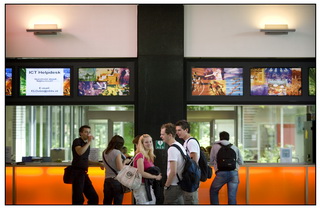 A top Dutch university of applied sciences
NHTV Breda University of Applied Sciences is located in the south of Holland, in Breda, a sparkling and inspiring city, and an easy place to live as a foreigner.
The University is a renowned institute that was one of the first to offer English-taught programmes. NHTV was founded in 1966 as an institute offering management programmes in tourism and leisure and in this field, it is still the largest and leading education institution in the world. Nowadays we are offering English taught academic Bachelor programmes in the fields of Games, Media, Hospitality, Leisure, Tourism and Mobility.
The institute recruits foreign professionals and almost 12% of the total student population is from abroad. International business and international cooperation are key elements in NHTV's curriculum, both from a social and cultural perspective and from an economic point of view. The cultural mix is a fertile breeding ground for open-minded, curious and worldly -wise students. Currently, NHTV has approx. 7000 students from over 50 countries.
NHTV prepares you for the management-level positions in an international setting.
International accreditations from for instance, the UN World Tourism Organization underline the quality of education. In the quality of rankings of Studiekeuze 123, an independent review of accredited study programmes in higher education, all NHTV study programmes have scored first place within their categories.
Facilities
Everything you need from computer labs, library to excellent sport facilities.
Entry Requiremens
Completed secondary school or secondary vocational education.
Additional skills and/or diplomas are required for International Hotel Management, International Media and Entertainment Management and International Game Architecture and Design.
Other undergraduate courses at NHTV Breda University of Applied Sciences