You are here :
Ritwik Swain
Ritwik Swain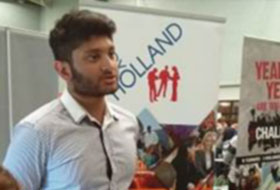 University: University of Groningen
Course: BSc Psychology
Which year you are in: 1st Year
Home Town in UK:St Albans, Hertfordshire
1. Why did you choose to study abroad?
Many reasons really. When it came to results day, I had discovered that I had missed my grades for my choice universities. Clearing offered me one place for my chosen course but the institute didn't really appeal to me. I then discovered the courses that were available in the Netherlands and it just seemed too good to be true.
2. How would you rate the assistance of the university before you arrived (the application process, finding accommodation, sorting out financial matters)?
Honestly, the bureaucracy of it all was a bit stressful but I did apply after the official deadline. Considering the fact that I was able to start on time for the course despite applying so last minute, it is only a testament to the Admissions Officer at my Faculty who seemed to go to great lengths to help me get in.
Finding accommodation is hard in Groningen (although not as hard as in Amsterdam, I hear). I was staying at hotels and youth hostels for the first three weeks but most would consider me lucky that it was only so long, considering my impulsive, late decision to come to Groningen. However, if you find accommodation quite early on, your experience of moving to the Netherlands may seem seamless but either way, I would always expect a struggle early on. Often people find temporary accommodation for the first few months and then a better, more long-term arrangement thereafter. Also, the estate agents here often charge you before they help you. This often costs around 50 Euros so you can't choose to join too many estate agents.
Financially, there are many things one should be aware of:
Exchange rates between the Pound and the Euro
Cost of sending money from the UK to the Netherlands
You need a Dutch bank account to get things done in the Netherlands
To get a Dutch bank account and avoiding paying the higher tuition fees (around 6000 Euros for my course), you need an address in the Netherlands
Dutch bank accounts tend to work in Dutch. Although most, if not all, of the employees speak English and are willing to help you with any queries; be prepared to receiving letters from the bank in Dutch and banking online in Dutch.
If you are Dutch or work 32 hours or more (assuming that you are British) per month, then you will get supplements from the Dutch government.
3. How would you rate the assistance of the university when you arrived (orientation etc)?
I was a late arrival so I can't give you the true picture of what the real introduction is like. I heard the university has something called Dies Week which is comparable to Fresher's Week. Unfortunately, I didn't get the opportunity to experience this but I get told that it was very enjoyable for the students.
I can't say I got a huge amount of assistance but ultimately, it was enough.
4. Did you feel prepared when you arrived and/or what surprised you?
I felt somewhat confident and therefore I felt like I was prepared. A lot of things surprised me and it's hard to name all of them. I was surprised at how good the people who weren't from English speaking countries were at English.
5. How would you rate the learning environment (teaching style, studying with other international students, non-native English speaking lecturers)?
This is my first experience of university so I have nothing else to compare it to but I believe that it is generally a very good learning environment. Language has never been a problem at all with the lecturers. It is a pleasure to study with international students.
6. Would you recommend studying abroad to a 17-18 year old Brit who might never have thought about it before?
Yes. The first time I considered studying abroad was in late August 2010 after I received my results and my 18th Birthday. I went to the Netherlands in early September 2010 to start studying at my university. I'm really glad I came here.
7. Is there anything you wish someone had told you at the time you applied?
I wished that I was told about this option a lot earlier.
8. Would you recommend your course, university, city to British students?
It would be naïve of me to think what is good for the goose is good for the gander. Coming here may not suit everyone but I certainly love it and I'm sure there are plenty of British students who would love it if they came.
To ask Ritwik a question please visit our Facebook page: Dutch Degrees
For more information about Ritwik's course, Psychology at the University of Groningen