You are here :
Nick Gregory
Nick Gregory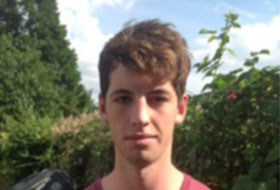 University: University Twente
Course: ATLAS University College
Which year you are in: First Year
Home Town in UK: Flitwick, Bedfordshire
1.Why did you choose to study abroad?
After leaving sixth form I wasn't too interested in University. The courses I looked at, mainly engineering or business, seemed to be pretty much the same with only slight differences in the content. The only way I would have chosen would have been by looking at the league tables and the location of the university.
The Netherlands on the other hand was completely different: the education style, the courses themselves, and of course the country.
As they have a good reputation for education I felt it wouldn't be a risk coming here in terms of job prospects. So it was a simple matter of whether I wanted to move to another country with a different way of studying and living in general. I thought that I'd be able to grow more as a person by moving abroad than staying in the UK where it would have just been more of the same.
2. How would you rate the assistance of the university before you arrived (the application process, finding accommodation, sorting out financial matters)?
The application to the university was very smooth. It was a little confusing at first because there isn't anyone to guide you through it as there would be going through UCAS. However, once you have the hang of Studielink (the Dutch UCAS) it's very simple.
The university itself did a lot for me. I was in e-mail contact with ATLAS and so what I had to do at each stage was clear to me and it felt very personal.
3. How would you rate the assistance of the university when you arrived (orientation etc.)?
Initially my files were mishandled by International Office, which caused me some troubles in the beginning of my arrival. However, I think I was just unlucky, all the other international students had quite a smooth introduction and the processes that they went through worked perfectly.
4. How would you rate the learning environment (teaching style, studying with other international students, non-native English speaking lecturers)?
The learning environment is great. At ATLAS we work so closely together that you know everyone really well in comparison to a course containing hundreds of other students where you can more of a participant in the course than a real member as it is here.
The learning style is different and personally, I think it's better. There is a lot more self-learning than at school, that's the same for English universities too, but on top of this there is a focus on the real world. This is through doing projects and learning skills instead of only learning facts and techniques that allow you to answer generic textbook questions and pass exams.
5. Would you recommend studying abroad to a 17-18 year old Brit who might never have thought about it before?
I would, if they are bored with the schooling they are experiencing. I felt that university would have only been a slight change in comparison to sixth form. So if you want more than that then I would definitely recommend it.
I think you have to grow up a bit quicker here too, as, although everyone can speak English, coming here is a big step. You can't go home often or see school friends each weekend and simple things like going to the shops when done here are just not as simple as at home. But this isn't a negative, I think it moves you out of your comfort zone, which means you're able to cope with more situations and makes you more rounded as a person.
6. Is there anything you wish someone had told you at the time you applied?
Get a phone with a basic Dutch SIM card as soon as you arrive. Get signed in with the municipality. Then head to the bank to get an account. I found ING, who sorted me out with an account in under an hour, were really good in comparison to ABN, who didn't manage to give me an account in about a month and a half. After that you're good to go and can begin settling in properly!
7. Would you recommend your course, university, city to British students?
I would. ATLAS is hard work and a complete change to the way of learning that I was used to but as I've become more used to the course I'm beginning to get a lot out of it. The skills and breadth of knowledge we obtain here I do not think you can find anywhere else. The accessibility of the tutors is also a major plus. We work on a daily basis with tutors who are all experts in their field and so the closeness that we as students have with such a large number of experts who can guide us is quite unique.
I would also recommend the university and city. Enschede, where the University of Twente is located, is a relaxing place to be. Nearly all the sports and clubs are accessible (some prefer you to speak Dutch first) and on campus. It's a small place though, so you need to get out and explore the Netherlands. But as the Netherlands is a tiny country, nowhere is over 2 and a half hours on the train, and, despite what the Dutch say, their trains are cheap.