You are here :
Molly Charlesworth
Molly Charlesworth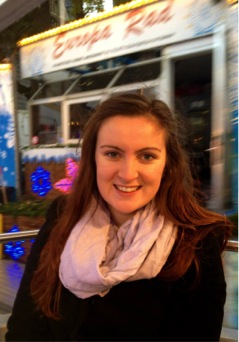 University: Maastricht University
Course: LLB in European Law
Year: Third (Final) – graduating June 2014
Home Town in UK: Dorchester & Weymouth, Dorset
1. Why did you choose to study abroad?
The summer before starting university, I wasn't 100% happy with my choice of university, or the course. I knew I wanted to study European Law, and didn't feel that I was making a big enough step out of my small hometown. I saw Maastricht University on the news after they applied to be a part of the UCAS register, and looked it up online. The course was much more suited to my interests, and I would be living in the heart of Europe, so could also travel in my spare time. The University offers many trips with study associations to Brussels, Strasbourg, Luxembourg etc. where you can visit European Law institutions, so there is more to life than just learning.
2. How would you rate the assistance of the university before you arrived (the application process, finding accommodation, sorting out financial matters)?
The application process is really easy, far easier than UCAS. Maastricht uses 'Studielink' to gather all your information for your application. When you arrive, the University puts on classes on how to register as a citizen in the city and get your BSN (social security number).
The downside is the lack of support from the university itself for finding accommodation. There are no halls of residence so you have to arrange accommodation yourself. This seems like a daunting task, but everyone is in the same boat, and Maastricht is a student-orientated city. There are plenty of organisations and student groups to help you find somewhere. I started off living in a student house much like living in halls, and then got an apartment with some friends for the following years.
For financing, there is an organisation much like Student Finance England, called DUO. British students are entitled to apply, but only if you are working 16 hours per week. Many people do this, but you will need to make sure your studies don't fall behind. The only thing you are entitled to without working is a tuition fee loan, so that is paid for automatically each month. Otherwise, arriving in Maastricht having worked over the summer and getting a small part time job would help. You will need to be financially secure to pay your deposit and rent to start with.
These issues shouldn't put you off, as the financing is the only thing that would make me hesitate before I applied. It's really quite easy given plenty of time to organise, but you must be aware that it's not the same system as in the UK, and you need to work out how much everything is going to cost before you arrive.
3. How would you rate the assistance of the university when you arrived (orientation etc)?
The University has a Freshers week called INKOM at the end of August, where you can meet people and find your way around. There's also an open day a week before starting the course, where you will meet everyone you are studying with. It's all very casual, and within the first few weeks you will have settled in to your own routine without being bombarded with flyers for different study associations.
4. Did you feel prepared when you arrived and/or what surprised you?
I was entirely unprepared, as I made a very last minute decision to apply. When I arrived, I figured things out quickly. There is a company called Jules & You which helps with everything from accommodation, buying a bike, setting up a bank account, health insurance and reading Dutch post! Organisations like this are readily available; the only thing that surprised me is the lack of support financially. There is no help whatsoever from the UK government, and the Dutch system can take a while to sort out, so you really have to prepare ahead!
5. How would you rate the learning environment (teaching style, studying with other international students, non-native English speaking lecturers)?
The learning environment really is second to none. I far prefer the PBL style learning (Problem Based Learning). We have very few contact hours per week, 6 – 12 depending on the course, but you have to be self-motivated to study outside of class. The teachers aren't like lecturers, who talk at you for a few hours, but they are very passive in steering a group conversation the right way. Tutorials involve group discussions about what we've read in the past week, and how we would solve the problem we've been given. Having non-native lecturers and fellow students is not something to worry about – often their English is better than mine… Many of the students there speak more than two or three languages, so if anything it just inspires you to sign up for the free Dutch lessons at the university language centre!
6. Would you recommend studying abroad to a 17-18 year old Brit who might never have thought about it before?
Without a doubt! I hadn't thought about it before, but now there are more and more British students taking the decision to move abroad, and you need to start preparing earlier. The tuition fees are cheaper, and you get more out of your course. Living abroad is an amazing decision to take at 17 years old, but not one you'll ever regret.
7. Is there anything you wish someone had told you at the time you applied?
When I arrived, there were very few British people. Now, there is an entire mini community of students willing to help each other out with home comforts. I was worried about coming out to a foreign country by myself, but soon learned it was easier to be further away from home. Those of my friends who didn't stray far seemed to go home all the time, but I got used to being away. I wish someone had told me how easy it is to adjust after those first few weeks, and to say yes to everything! If you get asked to go for a coffee, you're not too busy!
8. Would you recommend your course, university, city to British students?
I would recommend Maastricht as the perfect stepping stone for leaving home. It's a small, safe city full of different cultures and opportunities. The fact that it's abroad doesn't really occur to me anymore. It's easy to get to, not that far away from England, and everyone always wants to visit!