You are here :
Madeleine Hughes
Madeleine Hughes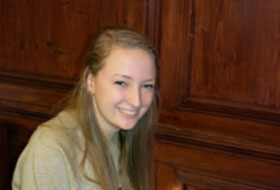 University:Florida State University
Course: Psychology Major (International Gateway Programme)
Nationality: British
Year: Junior (third year)
Hometown: Brentwood, Essex
1. Why did you choose to study abroad?
I wanted to move away from England and from my comfort zone. I had always been very ready to move on and try something new and studying abroad was a great way to do that.
2. How would you rate the assistance of the university before you arrived (the application process, finding accommodation, sorting out financial matters)?
I couldn't have asked for better assistance. I was guided through everything, every step of the way. From taking the SATs to having my VISA approved, I was never left to figure anything out on my own and all of my questions were always answered.
3. How would you rate the assistance of the university when you arrived (orientation etc.)?
Just as great! Every advisor or faculty member I have met with so far has been extremely understanding of me being an international student and how it can be difficult at times. There will always be bumps in the road when studying abroad but there is always someone that has been there to help me.
4. Did you feel prepared when you arrived and/or what surprised you?
I felt very prepared. Spending my freshman year with Americans that were studying abroad really prepared me. They were able to tell me so much about Florida State's main campus in Tallahassee and how things work. I was surprised by the size of the campus and how many people were always around but it's something I became accustomed to very quickly.
5. How would you rate the learning environment (teaching style, studying with other international students, non-native English speaking lecturers)?
I enjoy being in big classroom lectures. Each professor I have met so far has treated everyone as adults and been very respectful. It is very different to how my classes were in London as they had a lot fewer students but it has been very easy to adjust to.
6. Would you recommend studying abroad to a 17-18 year old Brit who might never have thought about it before?
Absolutely! It was the best decision I could have made. It has opened my mind and changed me so much. It will bring new opportunities and experiences you could have never imagined and it is worth every second.
7. Is there anything you wish someone had told you at the time you applied?
Only how difficult it can sometimes feel to have two homes and two families so far from each other but that is also something I love about studying abroad.
8. Would you recommend your course, university, city to British students?
Yes. FSU's London Gateway Programme is the perfect way to study abroad. The first year in London helps you meet the people you will be with in Tallahassee and it teaches you so much about life in Florida before you've even arrived there. It gives you the best of both worlds and is a great way to start your study abroad experience.