You are here :
Louise Sherfield
Louise Sherfield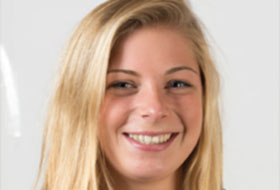 University: The Hague University of Applied Sciences (THUAS)
Course: International Financial Management and Control
Year: Second Year
Home Town in the UK:Brighton

1.Why did you choose to study abroad?
There were two main reasons that I chose to study abroad. Firstly, the prospect of leaving university with huge amounts of debt didn't appeal to me and so I began to look for a cheaper way to receive the same level of education. I discovered that the cost of studying a degree in Holland was a lot lower.
The second reason I chose to study abroad was the finance course that I found at THUAS really interested me. It's a four-year course with a strong global outlook, as I will have the opportunity to intern and go on an international exchange. If I was to study in the UK I knew I would only be able to choose one of those options.
2.How would you rate the assistance of the university before you arrived (the application process, finding accommodation, sorting out financial matters)?
There isn't a huge amount of information available, and I found that the Dutch universities are not as 'hands on' as some UK universities. You have to be proactive and undertake your own research to find the information you need regarding the application process and financial matters.
Finding accommodation was very easy at THUAS as they have a partner company (DUWO) that specialises in student housing for international students.
3.How would you rate the assistance of the university when you arrived (orientation etc)?
Orientation was great fun and very well organised – I found that I spent very little during this time and the only thing I paid for was my flight!
At camp there were older students who made me feel welcome and gave me some useful tips and advice.
The assistance and support from the university is excellent and I found that if I had any questions I could approach a number of different desks for answers.
I had to be proactive in finding out about grants and loans myself – something that's very important to do in advance if you can.
4.Did you feel prepared when you arrived and/or what surprised you?
When I first arrived I didn't feel very prepared at all! There were a few things such as registering at the Municipality and setting up a bank account and phone contract that took longer than I had expected, however the university did give me some assistance with that. After the first week or so I knew my way round and felt comfortable in no time at all!
5.How would you rate the learning environment (teaching style, studying with other international students, non-native English speaking lecturers)?
I really enjoy learning here. The lecture styles are not too different to that of an A' Level class. As I am in the first year of my course the class sizes are pretty small and this means I've got to know all of my classmates and the lecturers in a short space of time. We use an online learning environment, which is really helpful. You can test yourself and it's invaluable when preparing for exams! Studying in such an international environment is such a great experience and prepares you for your future career dealing with an increasingly diverse workforce.
6.Would you recommend studying abroad to a 17-18 year old Brit who might never have thought about it before?
Definitely! Deciding to move abroad and study was the best decision I have ever made. I came straight after finishing my A' Levels and so I was only 18.
Over the past year I have learnt so much about myself and achieved things I never thought possible. Living in another country increases your independence and completely opens your mind to new ideas and experiences.
The nice thing about The Netherlands is that it is close to the UK so it's easy to visit family and friends as often as you like.
There's no language barrier. I don't speak any Dutch and I have never found myself in a situation within the past year where this was a problem as everyone speaks English.
7.Is there anything you wish someone had told you at the time you applied?
It would've been good to know that there are two different types of universities in Holland - Research and Applied Sciences. I had no idea until I arrived that there was a difference between them and their teaching / learning styles, so do research this yourself.
8.Would you recommend your course, university, and city to British students?
Yes, I would definitely recommend my course to anyone with an interest in finance. The course covers all aspects of finance and accounting and by the time I graduate I am confident that I will be in a position to choose what my finance specialism will be.
The Hague is such a great city to live and study in. I love the fact that its so international and there's always something do to.