You are here :
Kieran Edwards
Kieran Edwards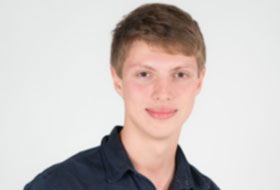 University: HZ University of Applied Sciences
Course: Delta Management
Year: 1st
Home Town: Based in Germany for A'Levels
1. Why did you choose to study abroad?
I chose to study in the Netherlands because the country has an innovative and progressive mentality particularly towards environmental issues. Additionally, the international community at HZ offers a great chance to gain experience in working with students from across the world, and the course I chose balances a theoretical and practical approach.
Equally, relatively small classes ensure a close connection between students and lecturer.
2. How would you rate the assistance of the university before you arrived?
Upon pre-arrival, HZ offered a lot of assistance and information on the procedure during the time of arrival. HZ ensured that all issues were respectively addressed so that accommodation, enrolment and arrival proved to be no problem.
3. How would you rate the assistance of the university when you arrived?
Upon arrival, students were introduced into the environment and formalities were quickly carried out. Students participated in an introductory programme as well as an introduction camp. It was a great opportunity to meet fellow students and settle into the new environment.
4. Did you feel prepared when you arrived and/or what surprised you?
I was anxious to see whether I would have any problems settling in since studying abroad might have led to complications. However, I was surprised at how easy it was to settle in and become comfortable with the system since I wasn´t anticipating everything going so smoothly.
5. How would you rate the learning environment?
Any study problems or remarks can be discussed with the teacher individually giving everyone the possibility to receive feedback. Furthermore, HZ ensures a close relationship between lecturers and students to individually advise students on their future career. The study experience itself is great since many international students make it a unique experience. On a side note, relevant course material is uploaded to an on online platform, which gives preparation for exams a structured and efficient approach.
6. Would you recommend studying abroad to a 17-18 year old Brit who might never have thought about it before?
I would greatly recommend studying abroad for the experience. The language is no barrier to integrate into the broad international community and it is easy to settle in since everyone has a good level of English. Besides the fact that studying abroad will look good on paper, it enables you to travel throughout Europe since HZ is well situated (located on the Dutch coast and a 2.5 hour drive from Amsterdam). Furthermore, a practical study orientation means that you can start to establish connections and gain experience for your future career.
You can read Kieran's post about the first year Delta Management students' excursion to Venice in November on the HZ University Facebook page (post date: 25/11/14).