You are here :
Gemma Scott
Gemma Scott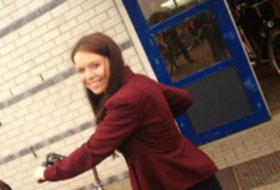 University:University Of Groningen
Course: Psychology (Bachelors)
Year: 2nd year
Home Town in UK: Newcastle
1. Why did you choose to study abroad?
I chose to study abroad primarily because I love travelling and new experiences; however I don't think I was entirely sold on the idea until I came to visit Groningen for the university open day. I met people from all over the world and they were all so friendly and open, it truly is an international university.
2. How would you rate the assistance of the university before you arrived (the application process, finding accommodation, sorting out financial matters)?
I would recommend calling and asking for help rather than struggling alone. Everyone I spoke to went out of their way to answer any questions or try to solve any problems that I have. The best part is everyone speaks amazing English which made the whole process much less daunting
3. How would you rate the assistance of the university when you arrived (orientation etc)?
Again everyone was very helpful. For the first few weeks I struggled using the university Nestor page which you can view your schedule on. Eventually I asked a member of university staff who brought me into her office and explained everything in great detail.
4. Did you feel prepared when you arrived and/or what surprised you?
I felt very prepared because I had previously spoken to British Students. The only thing that really surprised me was how intense the university workload is in your first year. The total opposite to England!
5. How would you rate the learning environment (teaching style, studying with other international students, non-native English speaking lecturers)?
The lectures and interactive groups are what makes my course fun. Again, everyone speaks perfect English so there are no communication errors or awkwardness. In the small interactive groups everyone becomes close and looks out for each other.
6. Would you recommend studying abroad to a 17-18 year old Brit who might never have thought about it before?
I began studying here when I was 18 and I have never looked back. Best decision I have ever made!
7. Is there anything you wish someone had told you at the time you applied?
I wish someone had told me how intense the course would be. I came here with a very British mind-set of first year university as being a breeze. However if you get in the correct mindset about doing study little and often there is still time for lots of fun!
8. Would you recommend your course, university, city to British students?
Yes, studying here has opened up so many more opportunities and I've had so much fun living in this city, making lots of new friends and of course partying!