You are here :
Gabrielle Steele
Gabrielle Steele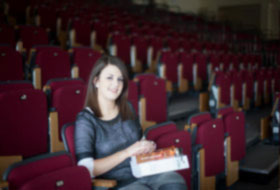 University: Griffith College Dublin
Course:Irish Law
Which year you are in? First year
Home Town in UK:Heysham, Lancashire
1. Why did you choose to study abroad?
I wanted to gain some independence and to experience a different culture, but I chose Ireland because it is still close to the UK so it's easy to travel back and forth. Also I have my parents living in Ireland, although not in Dublin, and so Dublin is close to them and close to the UK but also its own separate place.
2. How would you rate the assistance of the university before you arrived (the application process, finding accommodation, sorting out financial matters)?
I would rate the assistance the college gave me before I arrived with a 10 out of 10. I was always able to talk to someone by phone or email to answer any queries I had. I found the Griffith website also very user friendly for checking things as well. The college was also kind enough to accommodate me before I arrived. I wasn't able to attend the open day so they allowed me to visit the college when it suited me and they sent me all the printed information as well.
3. How would you rate the assistance of the university when you arrived (orientation etc)?
The support I got from the college when I first started was brilliant. People were very friendly and always willing to answer my questions. The first week was an introduction week which was well organised and helped me to get to know people before being thrown in to a classroom environment. The activities we did during this week were fun as well and meant I was informed about all the extras the college had to offer and the basics like where all the departments are and so on.
4. Did you feel prepared when you arrived and/or what surprised you?
I felt completely prepared when I arrived and was happy that I'd chosen Griffith as soon as I was here. I was surprised to get a 50 Euro voucher for the restaurant – that was brilliant!
5. How would you rate the learning environment (teaching style, studying with other international students, non-native English speaking lecturers)?
One of Griffith's best attributes is the amount of international student here and the fact they come from so many diverse countries. I think this is particularly good because it makes being a non Irish student in Ireland less intimidating and allows you to meet a variety of people and learn about other cultures from further away, which can only ever be beneficial and help you expand your knowledge.
6. Would you recommend studying abroad to a 17-18 year old Brit who might never have thought about it before?
I would definitely recommend studying abroad. I think it's a great way to help you mature and expand your knowledge. It also teaches you how to become more independent, and I think because of that it prepares you better for joining the world of work later on.
7. Is there anything you wish someone had told you at the time you applied?
As much as I have enjoyed being a student at Griffith, I do wish someone had told me how few sporting activities the college runs. There seem to be especially few for girls.
8. Would you recommend your course, university, city to British students?
I've really enjoyed my course so far but what I like best about Griffith is that it is situated close to the centre of Dublin and there is accommodation on campus. Also it has a brilliant Student Union. I would recommend living in Dublin because I enjoy the social aspect of the city and I like the convenience of being able to travel from Dublin to the UK and other parts of Ireland.
For more information about Gabrielle's course, Irish Law, at Griffith College Dublin