You are here :
Daniel Kerby
Daniel Kerby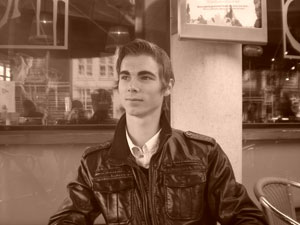 University: VU University Amsterdam
Course: International Business Administration
Which year you are in? First year
Home Town in UK: Born in Spain to British parents. Hometown La Nucia, Alicante
1. Why did you choose to study abroad?
The usual option for me would have been to either stay in Spain or move to the UK to study but I decided that somewhere else like the Netherlands, which was totally new to me, would benefit me more and give me a better experience of living. The course offered at my university was also much more appealing to me than the courses offered at universities in Spain and the UK.
2. How would you rate the assistance of the university before you arrived (the application process, finding accommodation, sorting out financial matters)?
The assistance of the university was very good. Despite some technical issues and miscommunication between certain departments, everyone that I had contact with was very helpful and made my application a smoother ride. I like the fact that they have an International Office for non-Dutch students as they provide information tailored to our situation.
3. How would you rate the assistance of the university when you arrived (orientation etc)?
We were divided into "mentor" groups with leaders who were students from the second or third year. Firstly we had a tour of the university and then activities were organized for the remainder of the week. I really enjoyed meeting new people and exploring Amsterdam, the city carries a constant "buzz" which motivates me greatly. I was made to feel extremely welcome by fellow students therefore I settled in swiftly and comfortably.
4. Did you feel prepared when you arrived and/or what surprised you?
Yes, I had everything ready for the big move, the usual home sickness kicked in a few times but that soon disappeared. I was a little shocked at how much work we had to do already but now that I have settled and gained a rhythm everything is more enjoyable.
5. How would you rate the learning environment (teaching style, studying with other international students, non-native English speaking lecturers)?
This city and university has a very multicultural environment which I love. Everyone is sociable, talkative and fun to be around. The lectures are given in English by non-native English lecturers but because everyone speaks English here with a high level it makes no difference whether they are British or not. Lectures are also fun and enjoyable, we only have three days of them but the free time given should be used for a lot of self studying.
6. Would you recommend studying abroad to a 17-18 year old Brit who might never have thought about it before?
Absolutely, graduate employment is at its lowest in the UK and in a year's time the fees will have tripled but the quality of the courses will not have done the same and the opportunities won't have either. Get out and do something different, go abroad and experience another culture, meet new people, with that you will have already achieved something and stretched boundaries.
7. Is there anything you wish someone had told you at the time you applied?
Yes and I will say this now, any foreign student should make an appointment for their (BZN), social security nº, over the phone well in advance as it is a long waiting list.
8. Would you recommend your course, university, city to British students?
For anyone thinking of entering the field of business, this course is amazing. International Business Administration covers all kinds of areas of business and really will prepare you more thoroughly for the future. The university has a few courses in English and also in other foreign languages, apart from being rated highly in the Netherlands, VU offers a multicultural, fun environment and also high standards of teaching and learning. As for the city, Amsterdam speaks for itself, it is unique, the only way you will experience that feeling that I felt is by coming over here and exploring all over.
For more information about VU University
For more information about International Business Administration