You are here :
Study
Auburn (Seattle)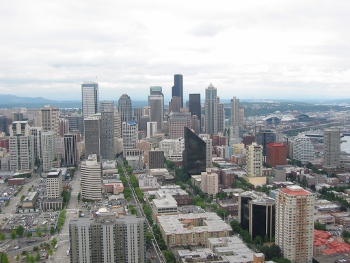 Auburn is located in the Washington State about 45 minutes away from the centre of Seattle. It's a small city with a population of around 70,000 people but there's plenty for students to do with its shopping centre, cinemas, parks and athletic facilities.
Auburn's close proximity to Seattle provides an extension to student life from restaurants, shopping, music events, nightlife and sporting events such as football with Seattle Sounders FC and baseball with Mariners. You can visit Pioneer Square with its popular restaurants, galleries and lively clubs, or perhaps visit Pike Place Market for its arts and crafts.
The Casade mountains provide the backdrop to Seattle's famous cosmopolitan skyline. Further afield, there are opportunities to experience the great outdoors and try out whale watching, river rafting, hiking, skiing/snowboarding, snow cave camping and much more including the option to travel by seaplane to the San Juan Island in the Puget Sound of the pacific Ocean.
Practicalities
Washington State weather can be similar to the UK with average temperatures from 2C to 8C in Winter and around 12C - 26C in Summer.
Getting to Auburn from UK
Seattle-Tacoma international airport is around 30 minutes away from Auburn and has direct flights to London with British Airways. Travelling to Auburn from the airport is possible by scheduled shared rides, by bus and by rental car.
Accommodation options in Auburn
If you are looking to attend the Green River Community College, students can live in their halls of residence called Campus Corner Apartments. These are located on the Auburn Campus. Costs are around $6,000 per academic year and includes all your utility bills, internet connection and cable TV.
You could stay with an American family to fully experience American home life. Homestay prices vary depending on what is included in your package. Average costs are around $625 per month.
Another option is renting privately with other students. Again prices and services will vary depending on what is included. It's always wise to seek advice from the institution to see what is the norm on rental properties and terms before signing any contract.
Health insurance.
It is very important that you are covered by medical insurance if studying in the US.
Green River Community College offers health insurance for its students for a quarterly fee. There are other options too. Make sure any health insurance policy covers your needs for the whole duration of your stay in the US.
* Free Seattle image provided by www.pachd.com
Universities in Auburn (Seattle)