You are here :
Christian Garrard
Christian Garrard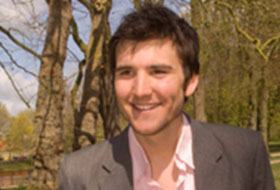 University: University of Groningen (Rijksuniversiteit Groningen)
Course: LLB International and European Law
Which year you are in: Second Year
Home Town in UK: Canterbury
1. Why did you choose to study abroad?
I always wanted to study abroad as well as in the UK and I wanted to do international law. The course I'm doing now is unique to my university and I couldn't have done anything similar in the UK so it made sense to go abroad where I study with international students and gain the international experience that I originally wanted.
2. How would you rate the assistance of the university before you arrived (the application process, finding accommodation, sorting out financial matters)?
The university put me in touch with an organisation who provide accommodation, much like halls in a UK, for international students. The application process was very simple and the uni did tell me how much I should budget for but there were other aspects of living abroad that were never told to me.
3. How would you rate the assistance of the university when you arrived (orientation etc)?
There are many organisations here in Groningen that helped me orientate myself when I arrived. So although the university itself may not have done, there was no problem getting help when I needed it.
4. Did you feel prepared when you arrived and/or what surprised you?
I didn't really know what to expect and the only thing that surprised me was how soon I felt at home.
5. How would you rate the learning environment (teaching style, studying with other international students, non-native English speaking lecturers)?
There have been issues with lecturers who are not native speakers although the vast majority of them have a high level of English and it's more that what's needed to teach their subject.
6. Would you recommend studying abroad to a 17-18 year old Brit who might never have thought about it before?
I would definitely recommend that students in 6th form etc think about it and there's no harm in applying as you can also apply for British universities with UCAS at the same time.
7. Is there anything you wish someone had told you at the time you applied?
I was hoping to get some sort of financial assistance from the UK but this is not possible.
8. Would you recommend your course, university, city to British students?
Absolutely, it's a degree just as good if not better than many universities in the UK but at a fraction of the price.
9. Is there anything else you can think of that is good to know?
The rumours that people like British accents are true!

For more information about International and European Law at the University of Groningen